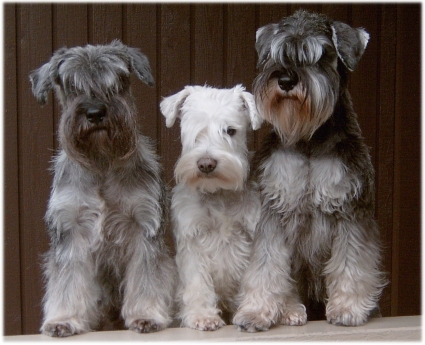 All began with schnauzer
My first schnauzer came in spring 1980. Babylonia was a black female. When I moved into a student-flat I needed have a small dog and in year 1982 came into the house a black miniature schnauzer female Minore Veronica .
After two years hit "dog show fever" and so came black mini male Rebels Caballero. But Calle was never a show dog because of his big size.
My first true show dog was a black female schnauzer Of Leijliden Milanja, who came on Christmas 1990. Mila was magnificent age 6 month in puppy class and in her second show she was BIS4-puppy in Seinäjoki. Later Mila was FIN CH and FinnSg. After a long break Mila competed yet in veteran class a few years with brilliant results.
Mihan Äkkijyrkkä was pepper & salt schnauzer, Miina came in spring 1992. In dog shows Miina was too and she was FIN CH.
The first litter was born on Valentine's day 1993. Black "shaving brush" were born eight and one of them stayed at home. I didn't have at that time yet a kennel-name so the litter was registered by kennel-name Epelin. At home stayed Epelin Ebenholz Elke went around dog shows and was FIN CH and KBSG. Elke moved "away from home" age 5 years to be interested in f.e. agility.
I got a kennel name in year 1994.
" Dog show fly" hit right strong and so came the first p&s mini male Trixer Zacharias in summer 1998. I have gone around dog shows in my mother country and foreign countries with Zacke with good success so that Zacke was champion of 8 countries, Europe Veteran Winner-06, Estonia Veteran Winner-07 and Baltic Veteran Winner-07 and FinnSieger. In summer 2005 in Minsk in Bela-Russia happened Zacke's farce of his career, when Zacke got his last CACIB to International Champion. Over 10 years old Zacke got Estonia, Latvia and Lithuania Veteran Champion titles.
I have dreamt already many years about a white miniature schnauzer. In autumn 2001 my dream came true when Jip-Jap'n Natos Di Alba, was born. The trip to Minsk was very successful because Aatos got his last CACIB to INT CH too. Aatos was champion of 6 countries, Estonia Winner-04, FinnSieger and Estonia & Latvia Veteran Champion..
In spring 2005 was in turn import dog and so came p&s mini Hildebert's Walter from Riga, Latvia.
After long waiting came the first affenpinscher Seibrin Isabella in April 2006. Bella started her long title-line with Junior World Winner-06 title in Poland. In spring 2006 came white mini female Neibade's Lumi Baumeister Moon from Riga.
In autumn 2007 came Tublion D Juula, the daughter of Trixer Zacharias.
In May 2008 was born kleinspitz-litter of my friend on my kennel-name. We have the white boy Baumeister Edelstein together 2008-2014.
Our affenpinscher-team increased in year 2009 with three affens. Own breed affens and Neibade's Vernum Vanilla from Riga, Latvia.
In spring 2011 enjoy our team white kleinspitz Tempore Vice Versa, son of Baumeister Edelstein and Rantakaupin Zydänkäpy, grand daughter of Trixer Zacharias. In may I brought from United Kingdom affenpinscher female Riogaioch Cordelia Gray and in December from Sweden affenpinscher female Airescot Black-Eyed Susan.
Swedish boy Tiny Black Trolls Casanova completed affenpinscher group in the spring of 2012. I was co-owner with Prague ratter Millgret Camil 2012-2016.
With schnauzer / miniature schnauzer / affenpinscher the time is never boring. Miniature schnauzer and affenpinscher are big dogs in small size. Character of the breed is a challenge and care of the coat is not easy without work. But still "breed loyal" we are very much!

I got 15.6.2017 Vuolasvirta-award number 1080 by Finnish Kennel Club for meritorious affenpinscher breeding. The award was the second of breed, the very first was kennel Seibrin (1995-1996).


Membership
Suomen Snautseri-Pinserikerho ry (Finnish Schnauzer-Pinscher Club) 1981-1996
Suomen Kennelliitto ry (Finnish Kennel Club) 1983-
Tampereen Seudun Koirakerho ry (All breed's dog club) 1988-
Suomen Kääpiösnautserikerho ry (Finnish Miniatureschnauzer Club) 1997-
Suomen Snautserikerho ry (Finnish Schnauzer Club) 1997-2012
Suomen Affenpinserit ry (Finnish Affenpinscher Club) 2006-
Suomen Kääpiökoirat ry (before Suomen Kääpiökoirayhdistys ry) (Finnish Toy Dog Association) 2008-2019
The Affenpinscher Club UK 2011-2016
Suomen Koirankasvattajat ry ( SuKoKa ry) (Finnish Dog Breeder Club) 2013-


Organisation action
Finnish Schnauzer-Pinscher Club The Pirkanmaa Local Club
board member 1983-1991
vice chairman 1985
chairman 1990-1991
Miniature schnauzer's puppy-announcer 1986-1991 and secretary of breed-commission 1987-1988
All breed's dog club Tampereen Seudun Koirakerho ry
Finnish Schnauzer-Pinscher Central Organisation The Pirkanmaa Local Club (1971-2011)
board member 2003-2011
secretary 2005-2011
Finnish Schnauzer-Pinscher Central Organisation (1954-2011)
Finnish Miniatureschnauzer Club
member of breed-commission 2006-2007
Finnish Miniatureschnauzer Club / The Pirkanmaa Local Club
board member, secretary 2012-2014
Finnish Affenpinscher Club
chairman 2010-2014, 2016-2018
member of breed-commission 2010-2018, 2021-2022
chairman of breed-commission 2023-
webmaster 2010-
Updated 6.3.2023
Publised 27.11.2005

START